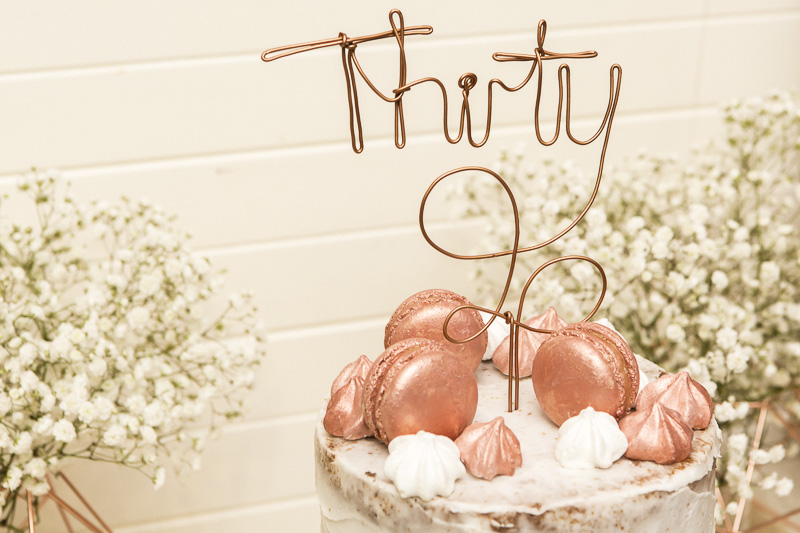 My birthday, is pretty much, no scrap that – IT IS the best day of the year! I love my birthday so much that August 15th is the most depressing day of the year for me because it is the furthest day away from my next birthday.
There are a few reasons why I love my birthday. One being that 'gifts' are one of my love languages. I also love being the center of attention. And finally, having all of my favourite people in one room to celebrate and eat cake is a pretty awesome way to spend a night!
I say this often in relation to birthdays, your life is worth a celebration. On this day, all those years ago, you entered this world and that changed the course of life for those surrounding you. And you are worth celebrating! I know I'm worth a celebration, and it being my 30th, I wanted it to reflect me in where I am right now with my style.
First up was picking a theme. I knew I wanted to get dressed up, I knew I wanted to stand out. And I knew I wanted to keep it simple. because that's me. I love an excuse to get dressed up, I like to keep my style simplistic, and well of course I love to stand out! So I went with a black, white and rose gold colour theme.
So I enlisted the help from my bestie, Zan, who actually created my logo and imagery and all the pretty things you see here on ashleung.com. She designed my invitations, which I'm still obsessed with and because it's my 30th, I'm going to frame one and keep it forever. We went with a white background (and by we, I mean I just loved everything she suggested and I went along with it!) and did a rose gold foil print that had confetti at the top and all the details below. I popped them in black envelopes to continue the running of the theme. If you want to see how pretty they are, head on over to Instagram to find the boomerang I posted.
Dress code was black and white cocktail, except for me. I wanted to, of course, stand out. So I went on the hunt for a different coloured dress, though I waited to see what dresses caught my eye first before deciding on the colour. But one afternoon, I just wanted to "quickly" wander into one of my favourite stores, Kookai. I wasn't shopping for my birthday, I just can't walk past Kookai without popping in. Within minutes I saw this long sleeve fitted midi dress with a ruffle around the hem line in a beautiful burgundy shade. I tried it on and it was perfect! It would stand out against the black and white, and compliment the hints of rose gold too. I already had a pair of rose gold stilettos I was planning on wearing, so I just needed to find a pair of statement earrings to match, which I just found in Lovisa. The dress had a high neckline so there was no need for any other jewelry, except for a small rose gold bangle. The entire outfit was simple and clean cut – exactly what I wanted.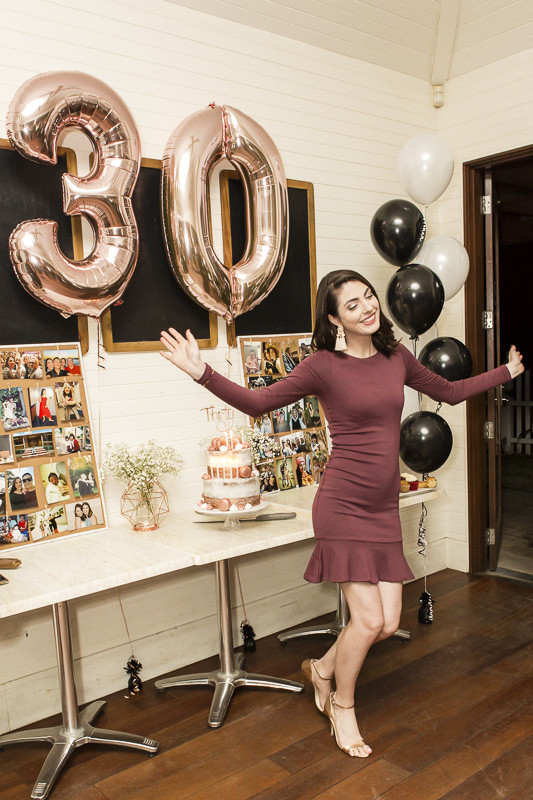 Next was styling the venue, which was a great local cafe called The Local Shed. They're only open for breakfast and lunch, so you can book it for private functions in the evening. It has a bit of a country vibe to it, with big country style log fence, a steel water tank that's held up by wooden stilts, and the building itself is an old converted house called Mungerie House which is owned by the state. It has its own character, so I didn't need much decorating anyway, and again, sticking with the theme of keeping it simple I didn't want to do too much to it. So once again, I enlisted Zan to help me make the space look incredible. She had these rose gold vases/candle holders she had used at her wedding 18 months earlier. We placed a few outside on the fence, sitting on the posts with candles in them. Inside I had three tables set up. On either end I had a bunch of black and white helium balloons, at the back of the table against the wall I had rose gold '30' foil balloons with two photo pin boards at the end of each table. The pin boards originally had a silver frame, so I had marble contact at home that I used to cover all. I then used copper wire and rose gold thumb tacks to string across the pin board and used mini pegs to hold up my photos. Next to each pin board was another rose gold vase which I placed a bunch of baby's-breath into each, and then in the center I had my amazing cake! It was a vanilla cake with one tier having passion fruit filling, the other with raspberry filling. Simply decorated with white and rose gold meringues, macarons, rose gold lace ribbon and my beautiful rose gold wire word 'thirty' cake topper – made by Zan (you can have one too, she sells them on her website Zandelion!), it just 'topped it off'!
Other details for myself included my hair and makeup. I went to my hairdresser to get my hair done, but when I got home I didn't love how it was teased on top (I sometimes find it hard to communicate how I like my hair, and I wasn't able to have my regular hairdresser on this particular weekend). I was so scared to ruin the curls, but I thought, "Oh well, this teasing isn't me so I'll just have to fix the curl if I brush it out to much." I started brushing the tease out, and I mean really brushing it. And then all of a sudden, I looked in the mirror and thought, oh my goodness… my hair now looks perfect! I had brushed a lot of the curl out, but because she had done such a good job of the curls, it still had a beautiful shape at the bottom and I still had some lift through the top with the little teasing that was left. And it looked amazing! So between the two of us, we made my hair look the bomb! My makeup on the other hand I did myself. I stuck with my normal routine all over except for a bold, burgundy smokey eye, with the lid covered in a pinkish-rose gold glitter. I loved it, and it only took me like 20 minutes to pull off!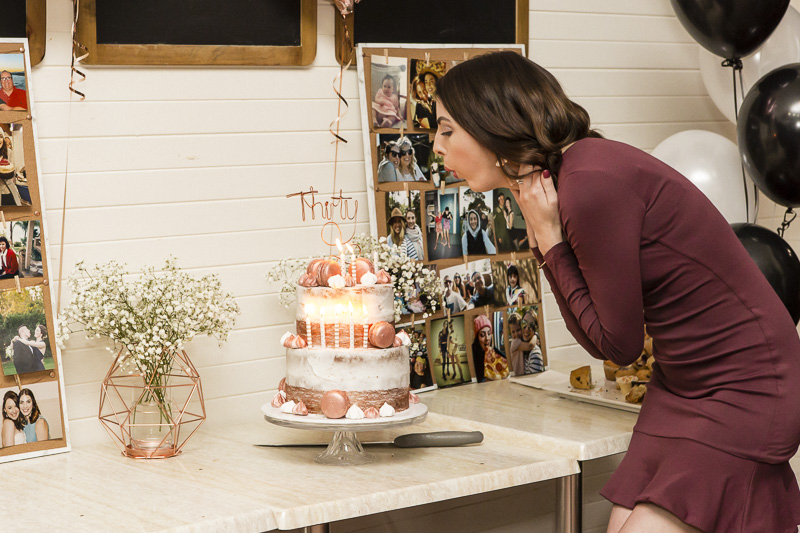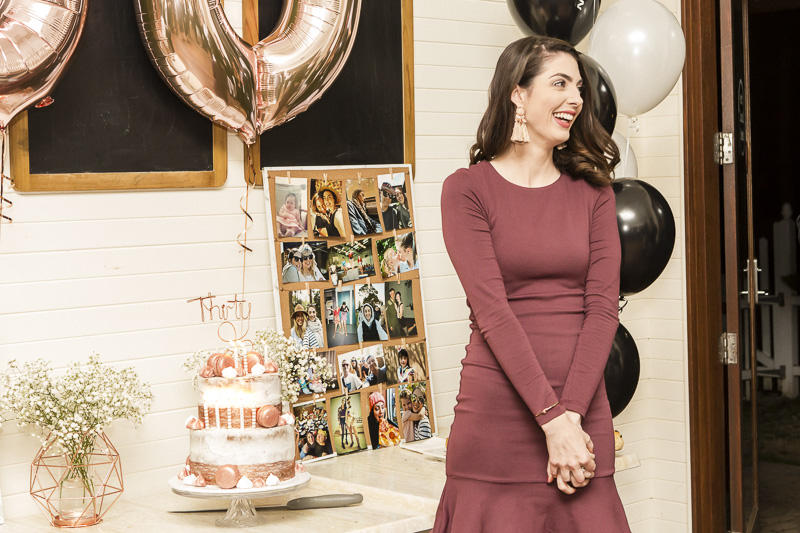 Leading up to my birthday, I had many people say things like, "Oh no, you're turning 30!" as if it was a bad thing. But my response was always the same – "I'm so excited to turn 30, I can't wait!" And so far, 30 is treating me pretty well. My party was incredible, and my actual birthday was pretty special too. Adam surprised me with lunch at Anchorage Port Stephens, followed by a couples massage at their day spa, Spa Lucca, where we got to relax in their hydrotherapy pool relax beforehand, then finish the whole experience with some time upstairs in their relaxation room, enjoying herbal tea on the balcony in our robes, soaking up the warmish late winter sun and the peaceful water views. We're now enjoying the week in Shoal Bay, enjoying more R&R and taking in the beautiful sunshine (it doesn't even feel like winter).
Life is what you make it, and for this new decade, I know I'm going to see dreams fulfilled, more adventures and answers to prayer. Because the older I get, the more I know and understand who God is and what He wants for me. So I'm going to live my best life with God at my center, and I'm going to rock thirty!
#BYOB