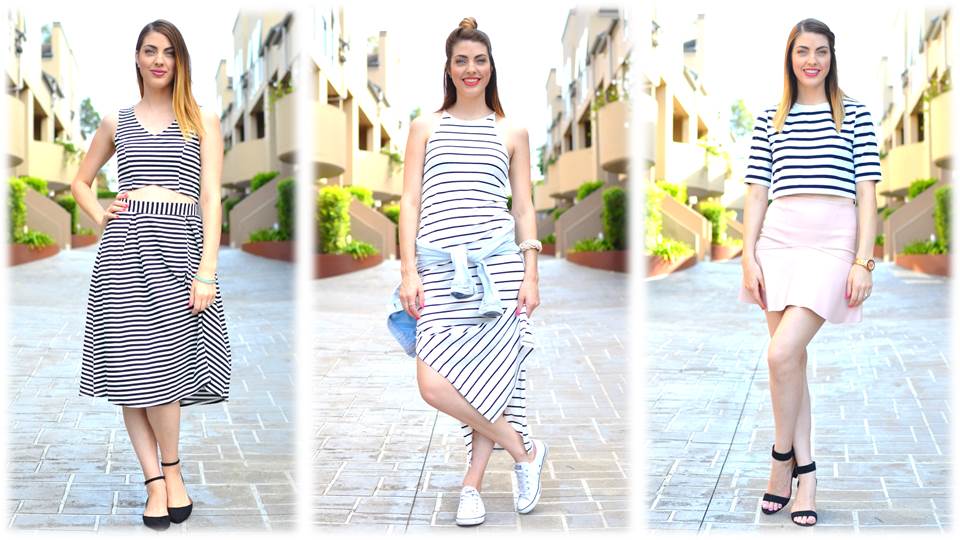 Stripes are something that will never go out of style. I am obsessed! To say half my wardrobe is stripes is in no way an understatement.
And we have the French Navy to thank for it. Dating back to March 1858, they came out with their new uniform with 21 navy and white stripes to symbolise each one of Napolean's victories. Awww how sweet!
But stripes as we see it today come in every different way you can think of. From the traditional navy and white, to black and white, colour, thin, think and different width stripes.
It's my favourite print to print clash with – matching it with florals and graphic prints. And if you're scared of print, it is the easiest one to try out! It can be casual, dressy, girlie – anything you want! It's something I believe, you should invest in, because it ain't goin' nowhere!
Here are 3 outfits from one of my recent video's showing off how I'm loving to style stripes at the moment.
'Lady Like' – Who isn't obsessed with matching outfits at the moment? And even though I'm showing off a little stomach, the 'midi' length of the skirt keeps it appropriate. Staying super feminine with sweet pointed toe ballet flats with an ankle strap and simple jewellery. And the fact that it is black and white (not your traditional navy and white stripe) keeps it modern, easier to wear and easier to accessorise!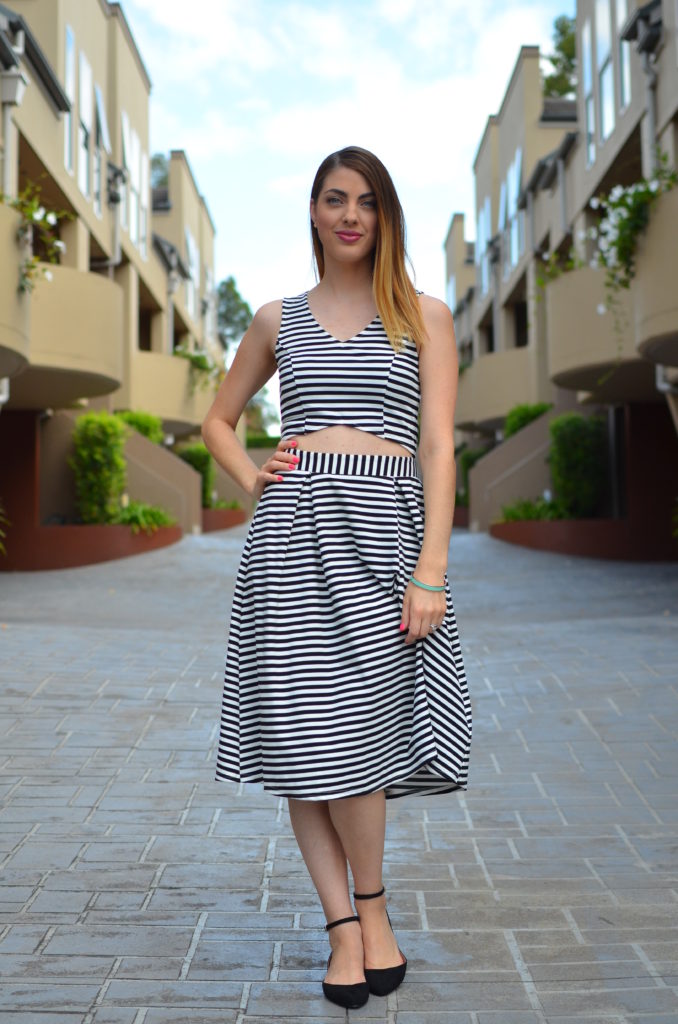 'Little Mini' –  With the short hem line on the trumpet style skirt, to the mid drift of the nautical crop, this is by far the flirtiest of the three outfits – And my favourite! Keeping the crop top the focal point, I went with a blush coloured skirt and black heels. And to keep it on the more tame side, I opted to hide a little more skin by choosing a top with longer sleeves and a higher neck line, to balance out the shortness of the skirt and the mid drift. This is definitely a girls night out, outfit, and I cannot wait to dance the night away in it!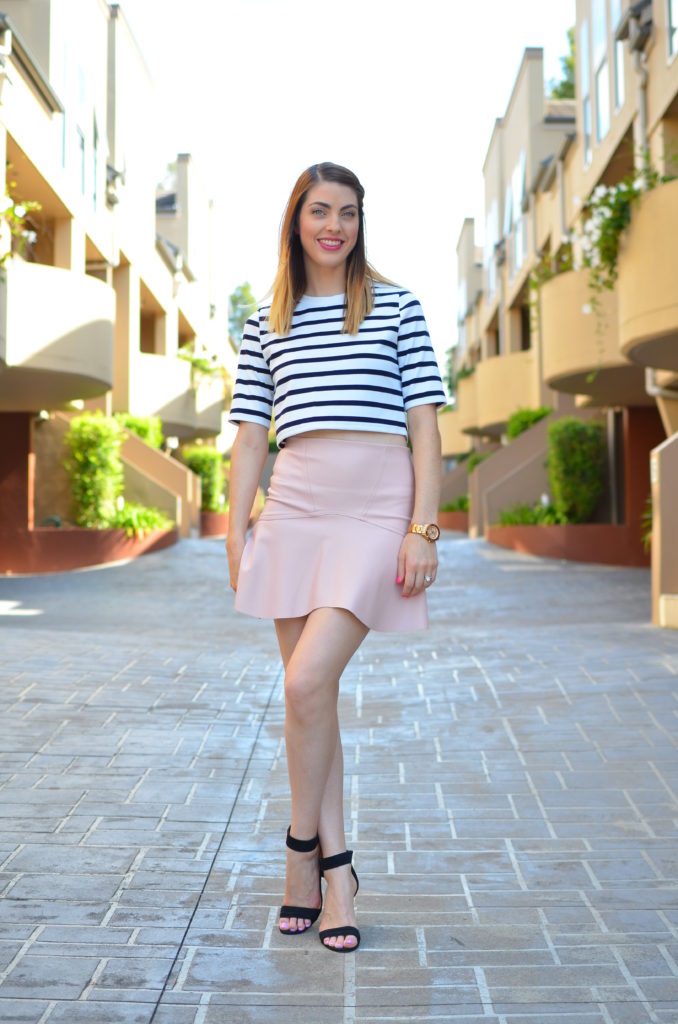 'Street Stripe Style' – Confession! This is my third striped maxi / midi dress! I wasn't lying when I said half my wardrobe was stripes! But this is the latest addition to my wardrobe. I love the casual, street vibe I get from this dress. With the on trend 'halter' style neckline, to the slightly shorter length (making it less girlie – if you get my drift?), and the slits on both sides, it is so effortlessly cool. All I need is my converse and my denim jacket and I'm good to kick it with ma homies … not that I actually have homies, and not that I actually talk like that?!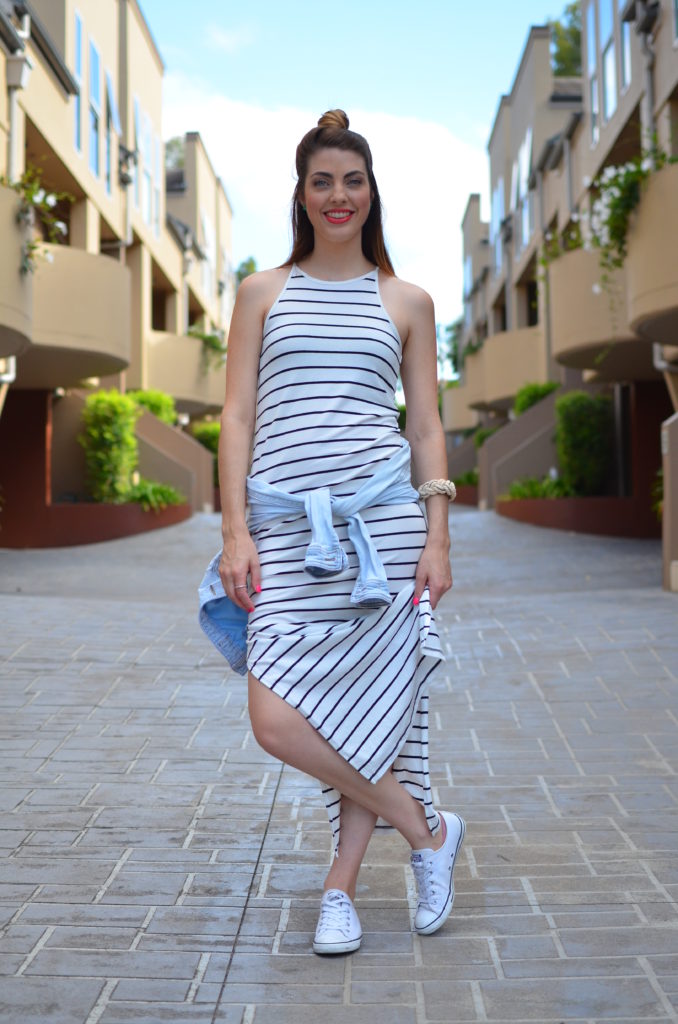 I'd love to hear how you style your stripes and if you are obsessed with stripes as I am? If you're wearing stripes while reading this, take a #stripeselfie post it on Instagram using that hashtag and tag me so I can find it and repost it!
Keep your life in stripes, and I'll speak to you soon!
#BYOB